What?
It is early summer, it is hot in the air and a visit to the beach at Fria bad or Pålsjöbaden feels attractive. But how hot is it really in the water? Wonder how many people there are on the beach? Is there a place to park the car nearby? How much does the sun take this year? How clean is the bathing water today?
The questions are many and the city of Helsingborg has the ambition to give you who are wondering the answers.
At helsingborg.se, we work to provide as much information as we can so that you have the opportunity to see how the situation on the beach and in the water is right now. To succeed, we are testing different pilots.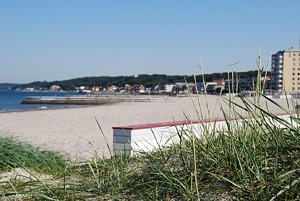 Why?
By making as much information available as possible about the location on the beach and in the bathing water, we believe that it will be easier for you to choose whether today is a good beach day for you.
How?
The city will test existing technology in a new context to be able to warn bathers of too high and harmful bacterial contents. The technology is located in Pålsjö cold bath house, the analysis is done immediately and the answer comes in a minute. In the long run, the goal is to use machine learning (AI) to enable an early warning system for poor bathing water quality.
At Fria bad there is now a weather station and buoys with temperature sensors are placed in the water. Both the weather station and the buoys communicate with the LoRa network that Öresundskraft has built in Helsingborg. Going forward, we will also try to connect the defibrillators that are already along the beach. An ongoing test is to enable updated information about the parking situation. This would mean that data from parking meters, parking apps and satellite images could show if the car park and the streets around the beach are fully occupied and instead give suggestions for a suitable bus or suggestion to visit another of the city's beaches instead.
In the footsteps of the pandemic, it is also important to get information about whether there is congestion or plenty of space on the beach. By counting the number of people on the beach, we can inform about this. The count can be made through small detectors that are placed at the entrances / exits that are in the wall along the promenade, a sensor on each side of the wall allows us to see if you go to or from the beach.
A similar approach to give the visitor such comprehensive information and help before their visit to the beach has not been done anywhere else as far as we know. The information from all sensors and open data can also help the city's contractor to manage the operation and maintenance of the beach in a good way that provides increased benefit for the customer.